New Desinged Low Cost Wire Cut EDM Machine DK7740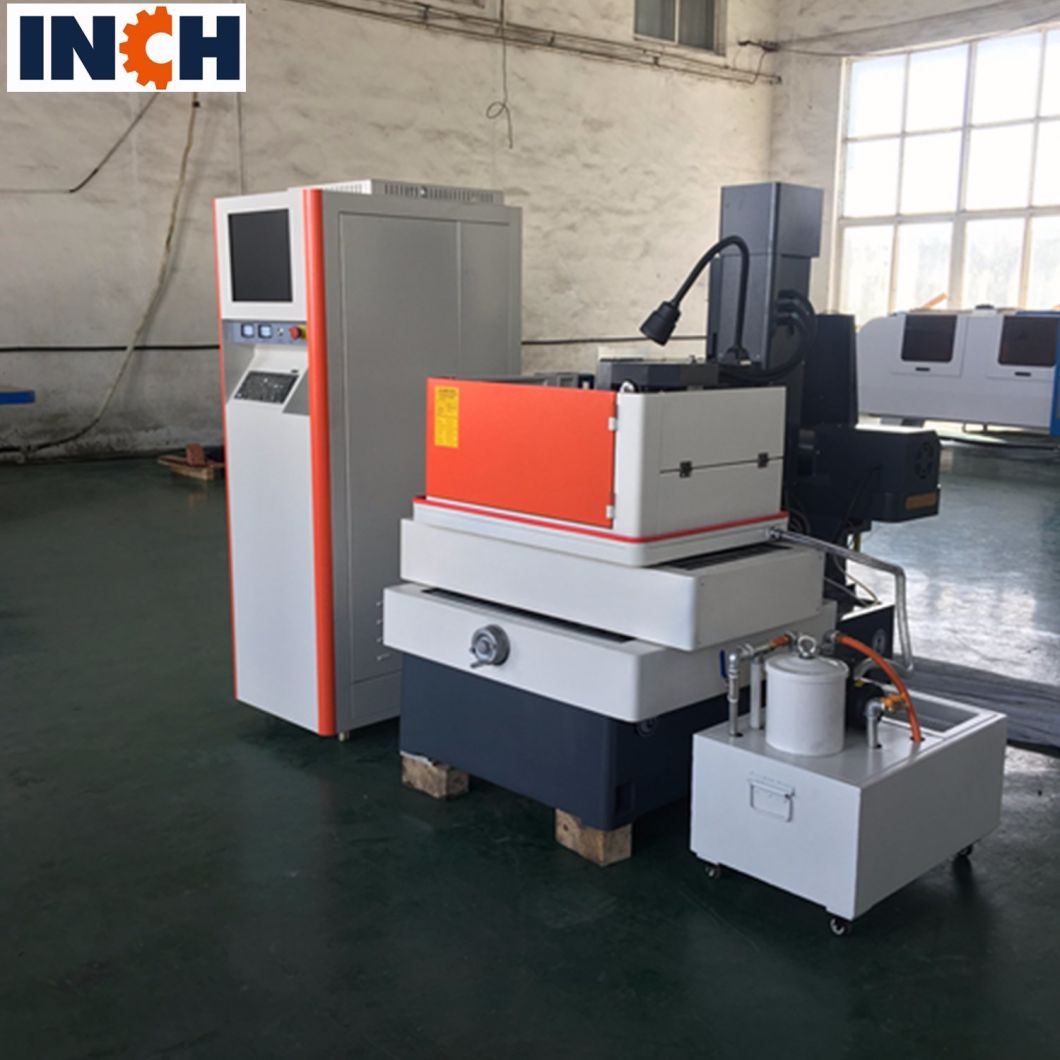 Standard Configuration:
1) Window XP System with Auto-CAD software control System.
2)Inverter control wire running .
3) Standard DRO and Z axis motorized drive up and down.
4) Hiwin brand linear guide way install on XY ( P lever ).
5) BEIFANG brand ball screw install on XY ( C3 lever ).
6) Automatic center lubrication system. (Not manual ).
7) LED Inside light .
8) Automatic wire tension system.
9) Standard ±6 degree taper cutting system.(+/-15degree optional )
10) Gem water nozzle .
11) Automatic parameter generating system.
12) High pressure water tank with paper filter .
Advanced and reasonable structure
(1)The machine has a reasonable layout and good overall rigidity. According to our experience, owing to the cantilever type of upper and lower arm, it constitutes tuning fork type structure with vertical columns so that the strong or weak of the columns rigidity directly affect the stability of the wire frame and roughness and accuracy of workpiece. That is why the columns sections are designed bigger to ensure the whole rigidity.
(2)All the bearings used in the ball screw of worktable parts are specially pairing produced by professional manufacturers (Harbin bearing factory), The pairing bearing can ensure the axial gap of bearings is within 0.004mm.
(3)Upper arm is equipped with taper head, not only it can cut taper workpiece, but also it is more convenient to adjust the molybdenum wire perpendicular degree.
(4)It has a high degree of automation. The processing process is full automatic, and also has the functions of wire broken automatic protection, brown-out protection and automatic center finding.
Prameters :
Technique parameters

Unit

DK7725

DK7732

DK7740

DK7750

DK7763

Table size (WxD)

mm

400×580

440×680

540×760

640×1020

750×1140

Table travel (XxY) XY

mm

250×320

320×400

400×500

500×630

630×800

Table travel (UxV) UV

mm

70×70

Max. workpiece weight

kg

400

600

1000

1600

2400

Thickness of workpiece

mm

400

450

550

Max.taper angle

±6°/80mm

Z-axis control Z

electronic control

Z-axis guideway Z

slide guides

Diameter of cutting wire

mm

φ0.15~φ0.20mm(recommend φ0.18mm)

Feeding speed

m/sec

1~11.4/7paragraph frequency changer adjustable

Precision

mm

≤0.012

Machining speed

mm²/min

>200

Surface roughness

μm

Ra≤1.5

Motor type

X,Y,U,V stepper motor

Control axis

4 axis simultaneous

Min. control pace

mm

0.001

Power supply

3N-380V/50Hz

Max. working current

A

12

Power consumption

Kw

1

Working liquid

JA-1

Water tank

L

55

Filtering mode

filter screen

Machine weight

kg

1250

1480

1730

2500

2900
In exhibition :